Ranch Rail Fencing in Cedar Rapids, IA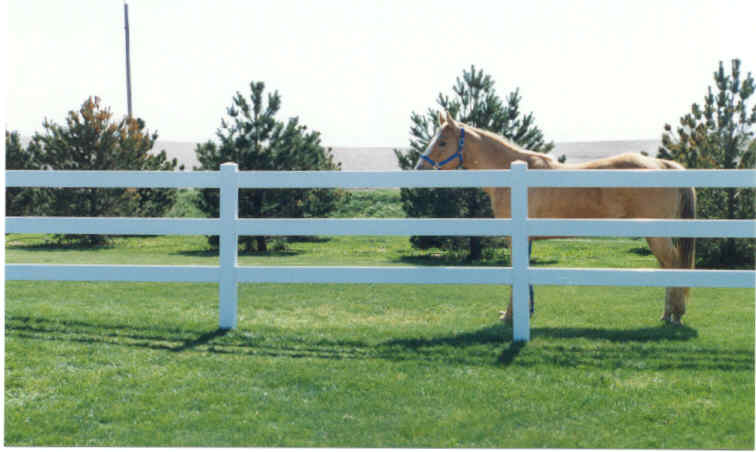 Once the nation's most common fence type, ranch rail fencing in Cedar Rapids remains a staple in rural areas, including in Wisconsin. If you have a ranch or country home that you want to enclose with an attractive fence—one that offers plenty of ventilation and functions more to define the boundaries of your property than to actively secure it—if keeping out intruders is not as high a priority for you, then look no further than the ranch rail fence panels installed by American Fence Company!
How can ranch rail fence panels benefit me?
With the spacious gaps between their elongated rails, these panels obviously are not the top choice for property owners needing advanced security. Instead, ranch rail is ideal for the simple practice of marking perimeters. In fact, this was its primary function when people first started building ranches and homesteads in America; the idea was not so much to keep out intruders but to mark where property began and where it ended. This remains the dominant function of split rail fencing today. If you have a ranch, farm, or country home in or near Cedar Rapids, split rail can be used to distinguish property lines.
Another one of ranch rail's appeal derives from its simple yet appealing aesthetic; installing a line of this fencing even has the potential to raise property value. Also: while ranch rail is not ideal for security, it can be used to contain livestock. In fact, ranch rail is preferable over, say, chain link for this purpose, as cattle cannot so easily get their limbs stuck in the wide gaps between the rails.
What kind of ranch rail fencing in Cedar Rapids should I get?
Here at American Fence Company of Cedar Rapids, IA, we strongly recommend vinyl ranch rail fence panels. In the past, lumber was the standard material, but there are a number of unique benefits to PVC. One is superior strength and longevity. High-quality vinyl—like the kind used to construct fences here at American Fence Company of Cedar Rapids—is built to last a lifetime as well as retain its color. Wood fences require the occasional paint job, but vinyl will only experience a slight reduction of its natural sheen.
Vinyl is also resilient to water damage, as it is a waterproof material. By contrast, wood fence panels require staining and painting to prevent the absorption of liquids. (In a torrential downpour, the rain simply runs off the sites of your vinyl fence; in the same storm, an unstained wood fence will absorb the water, which can lead to unsightly damage in the winter, when the trapped water freezes and expands.) Even in the winter cold, vinyl is pretty durable, merely becoming more flexible as the temperature falls.
I want to build my own ranch rail fencing in Cedar Rapids. Where can I get the materials?
If you're a contractor or an ambitious homeowner who wants to try installing a fence without professional assistance, no problem! American Fence Company of Cedar Rapids accesses the Midwest's largest inventory of PVC, wood, chain link, ornamental steel, etc., all of which is available wholesale! If you merely want to purchase fence parts to make repairs to an existing ranch rail fence, we can help with that, too!
CONTACT AMERICAN FENCE COMPANY FOR ALL YOUR RANCH RAIL NEEDS IN CEDAR RAPIDS: